Commes des Garcons
Bump Dress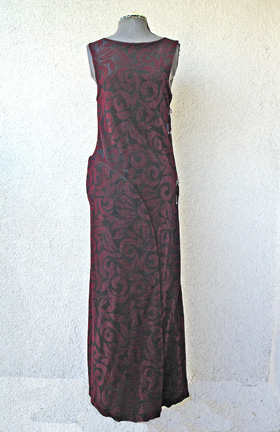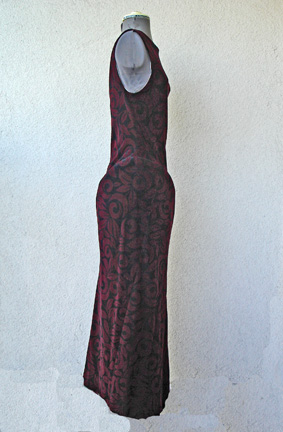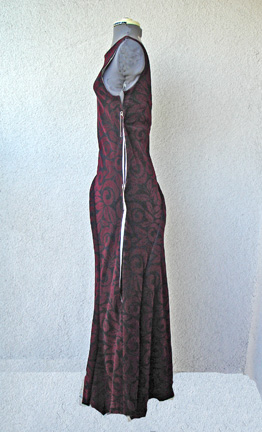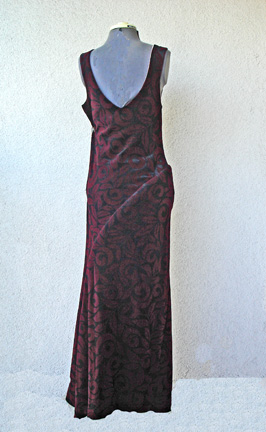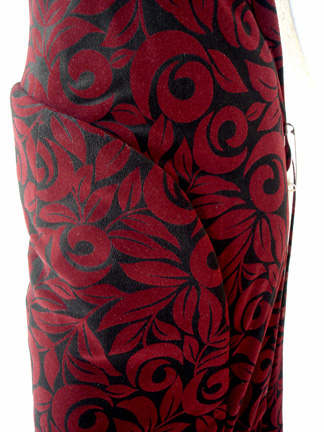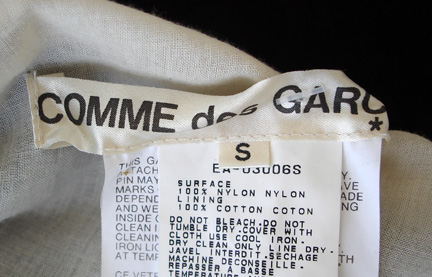 The Comme des Garcons Bump Dress, designed by Rei Kawakubo, was well publicized and documented in fashion magazines in the mid 1990's. Considered by most to be a radical fashion statement the "bump" dress, nevertheless, is a Kawakubo creation of hidden construction and elaborate engineering designed to exaggerate the hips and buttocks of the female form. Not unlike earlier fashion's use of bustles, panniers, hip pads and hoops.

This is a long evening dress fashioned in a heavy deep rich wine and black velveteen floral pattern. The dress has an asymmetrical hemline and is fully lined in heavy cotton. The two most significant features of this high fashion creation are the front and back padded diagonal hip "bump" or "hump" .... hence the name Bump Dress...and the completely open left side which is adjustable and fastened via 2 giant safety pins. In this Bump Dress, I believe Kawakubo has radically juxtaposed two completely diametrically opposed societal concepts; the old and highly constructed Victorian Era (signified by the bump) juxtaposed with the ultra modern and free form constructed Punk Rock Era (signified by the open/safety pinned side). This fashion interpretation is what makes the Bump Dress significant in fashion history. Furthermore, this Bump dress style is different than the mass produced lightweight nylon Bump dresses of the period and is much rarer and more substantial.

Condition: Excellent and never worn.

Size: Small. bust: 32", waist: 26 1/2", hips: 33", length: 55"
for further information