Gaultier gladiator sandals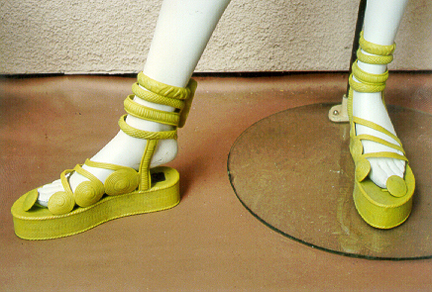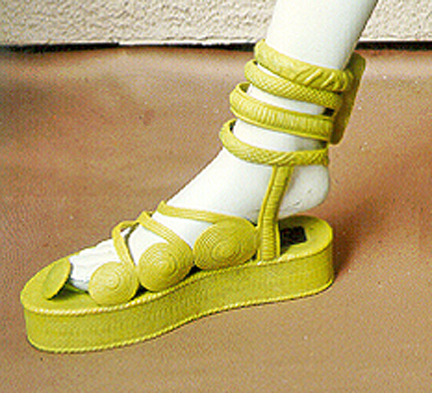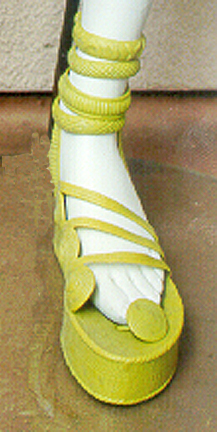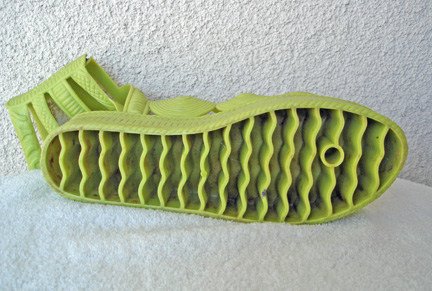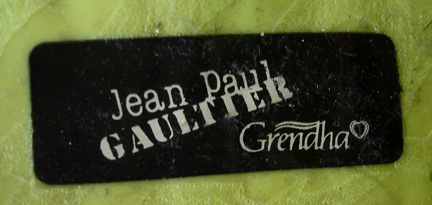 In the 1970's the Brazilian company, Grendene, was the first company to employ polyamide as raw material for shoe components. In 1979 owner, Pedro Grendene Bartelle, had a revolutionary idea that turned his company and fashion around. He studied the strap sandals worn by French Riviera fishermen and then designed molds for plastic footwear production injectected with polyamide raw material for shoe components. And in 1983 the company developed successful collaborations with major fashion designers, such as Jean-Paul Gaultier and Thierry Mugler to name a few. These gladiator shoes are one of those rare and unusual collaborations.

1983 Jean Paul Gaultier fashioned of lime green rubber in gladiator style platform women's shoes with toe thong style separation. Velcro closure at ankle. Rubberized corrugated soles. Decorative circular swirl pattern discs with embossed design on platform and ankle straps. Size: 9

Condition: excellent; velcro closures replaced with new velcro; some soiling which probably can be cleaned.

Size: 9; insole: 10": width: 3 1/2"; platform: 1 1/2"; width of ankle strap: 4"

LabeL: Jean-Paul Gaultier/Grendha. Grendha is the Florida subsidiary of the Brazilian manufacturer, Grendene.
for further information