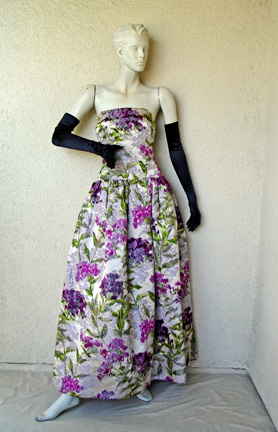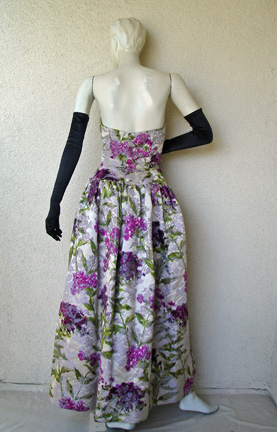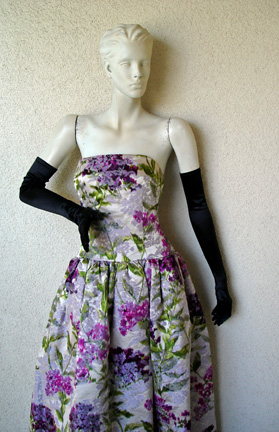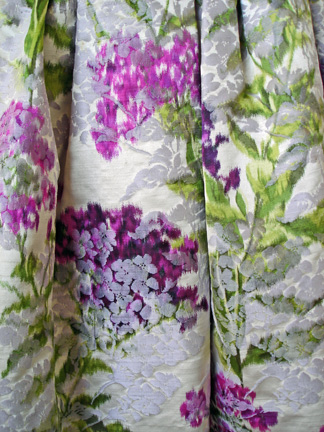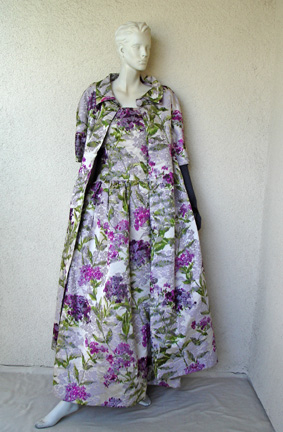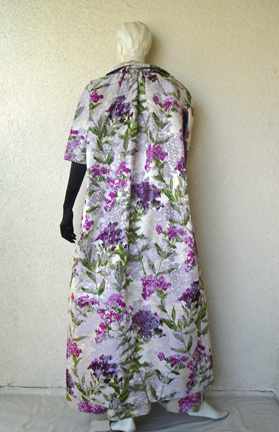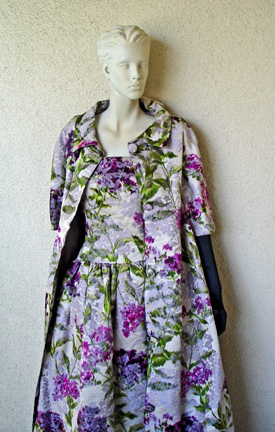 Magnificent Givenchy Couture 1950's gown and matching evening coat fashioned of lilac print Lyon chine satin. During this period Givenchy and Balenciaga had a very close friendship in which Givenchy was able to design his simple lined styles with the guidance and inspiration of Balenciaga. In keeping with this, Givenchy created this highly fashionable, strapless gown and matching coat. 3/4 sleeve swing style coat is constructed with simple lines and form with slight gathering at back of neckline. A fashion statement evoking drama, elegance and couture fashion of the period. Together with the matching coat it is an enviable ensemble.

Coat Condition: excellent, beautiful condition; tiny unnoticeable stain in lining. Label: Givenchy with label underneath written # 3161.

Coat size: bust: to approx. 44"; length: 55"; shoulder: 15.5"

Dress Condition: beautiful condition; interior corset construction and horse hair crinolines..shows oxidation and some spliting at hemline of crinoline only;, but still in superior crisp condition both inside and out. Exterior of dress is perfect and crisp. No label ... Givenchy label in matching coat.

Dress Size: bust: 34"; waist: 27"; length: 50-51 1/2" Dress is not skimpy so may be a bit larger but if needed there is plenty of additional seam fabric if needed to enlarge.
for further information