Madame Gres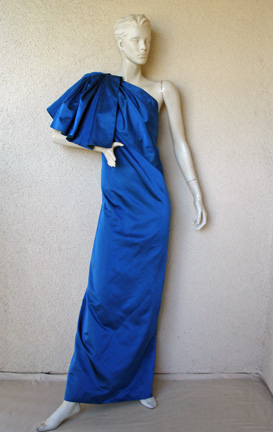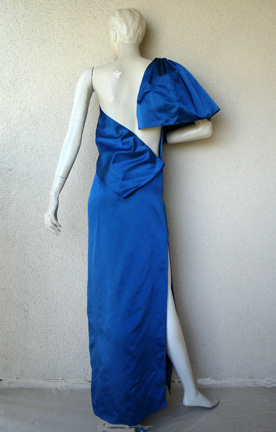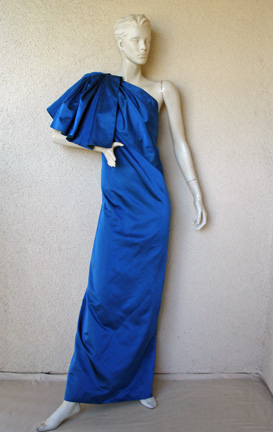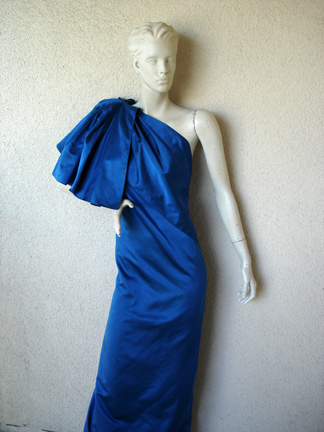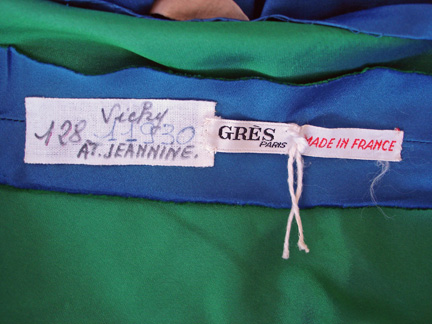 Madame Gres grecian one shoulder silk deep turquoise/teal blue gown. An actual runway design (see label) from the 1970's. Runway designs are quite rare.
As a sculptor Gres always depended on structural insight in creating her fashions. Her minimalist design (constructed from joined fabric panels at the back tucked at the waist and pinched at the bodice, and her signature one shoulder grecian style) defined her ability to create classical, elegant enchanting dreamlike fashions.
Fabric is scooped up at the shoulder and delicately formed into an exquisite bow. The dress is not traditionally lined but fabric is double faced with contrasting emerald green silk. Side zipper closure and high kick pleat.
A very unusual feature of this gown is that, under certain lighting, the rich deep blue fabric also casts an iridescent shimmer of green.
The label of the dress shows the name of the model "Vicky" who wore the dress; the model number; and Atelier Jeannine who sewed the dress.
Bust: to approx 36"; waist: 32"; hips: approx. 36"; length: 60"+
Condition: excellent with no wear.
Provenance: Madame Gres estate.
for further information