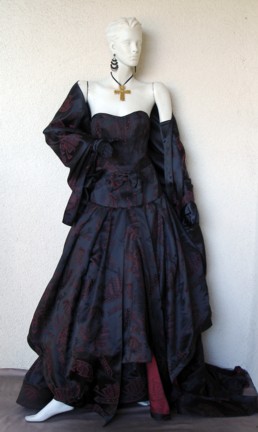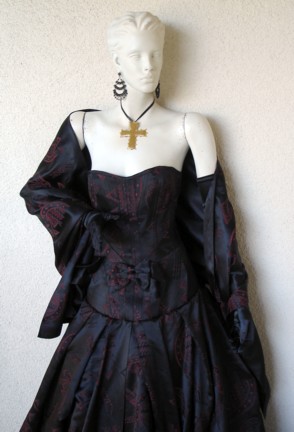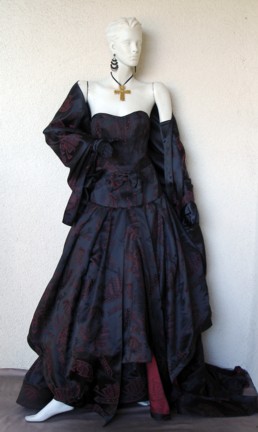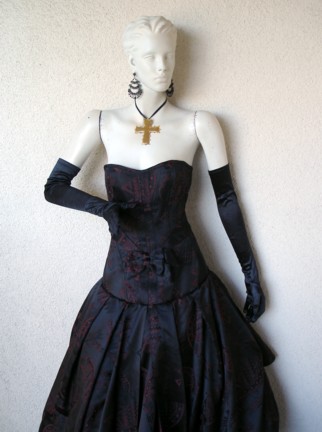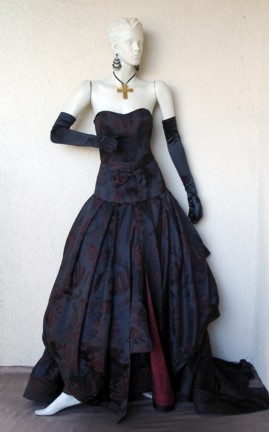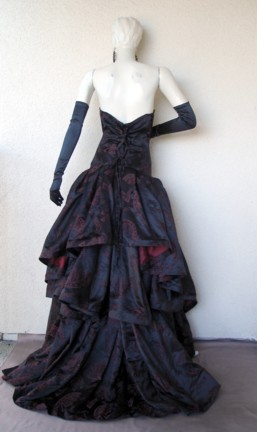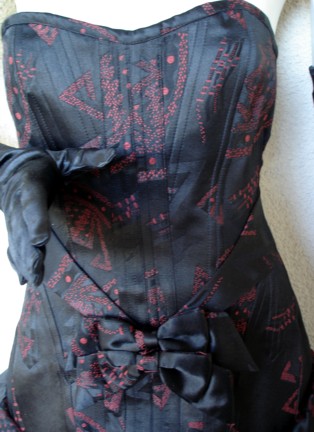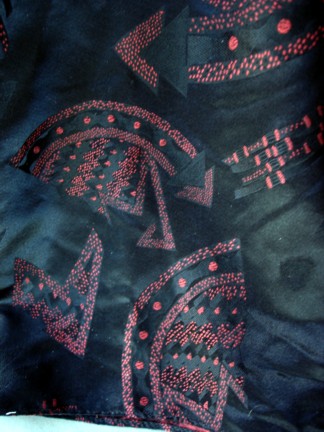 In the early 80's Christian Lacroix was hailed as the new emerging designer of contemporary Haute Couture. And when he opened his own House in 1987 there was no doubt that his extravagent lavish and exotic 'larger than life' creations were the mecca for the new money society of the 1980's. Lacroix has no boundaries in his artistic interpretation to create fashion; fashions that have no limits in terms of expense; use of exquisite brocades and patchwork silks. Lacroix designs the most impressive, unique and astounding ballgowns that one can only describe as 'masterpieces'. One only has to reflect back to the times of the French Court at Versailles to see where Lacroix begets his inspiration.
Brand new Christian Lacroix multiple layer silk bustle gown fashioned of a rich black heavy silk against an arrows-and-arcs pattern in a rich dark wine. Boned decorative topstitched corset bodice with removeable double bow adornment and laceup tie back. Drops into a double tiered pouf with long side panels accentuating middle double poufs. Back has triple pouf tiers with bottom hemline extending out into a long dramatic train. Gown is fully lined, with a short stiff crinoline for body and support. Back zipper closure, To complete the fairy tale look the matching two-toned cape is included. If you're seeking that very special fairy tale gown .... this one will make you the Cinderella of the ball! Glass slipper not included!
Size: 38/6; bust: to 38"(adjustable by laceup back) ; waist: 30"; length: 60"+
Condition: brand new. excellent and unworn. Orig. Retail at $10,000.
for further information