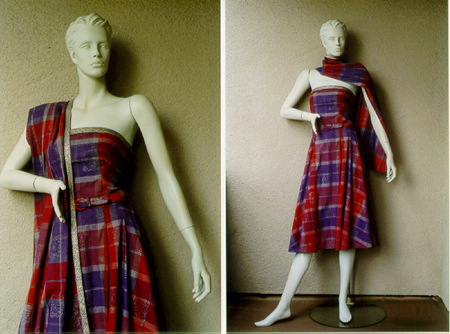 The most important American sportswear designers of the 1940's and 50's were Claire McCardell, Tina Leser, and Carolyn Schnurer.
Tina Leser was especially noted for her American designs inspired by ethnic influences. This submission is a colorful plaid madras-like cotton sundress, inspired by the Indian sari.
The dress has a unique and sophisticated construction and style. The strapless dress wraps around with the attached shawl portion designed to drape over the right shoulder. India inspired silver embroidered metallic border at bustline and on shawl. Has matching fabric belt; side button closure.
The dress circa 1940's is an excellent representation of the ingenuity, ethnicity and style of Tina Leser.
Label: Tina Leser Design by Foreman; size 10. According to the "St James Encyclopedia" by Richard Martin, page 258; "Leser ... only began to be a force in fashion in 1943, when she joined the Edwin H. Foreman sportswear firm as a designer".
Condition: Garment is in excellent condition. Normal expected minor cracking of inside lining of belt. Possibly some seam mending and also at hemline.
for further information