Rare Paul Poiret. Opera Coat. circa 1924. Documented.

Stunning cocoon evening coat of black georgette, hand beaded overall in lines of black beads switching to gray translucent beads with a geometric ragged edge formed at the color change. The coat has a velvet collar and edging at the aperture and velvet cord along the top of the shoulders extending down the full length of the arms. The dramatic dolman sleeves are emphasized by a careful placement of the beadwork pattern. The construction derives from draping techniques. The front falls from the shoulders and sweeps into a cutaway closure to attach at the lowered waist seam in the back. The coat has tremendous graphic impact with the beadwork shimmering and moving as the light hits the garment.

This coat is well documented, although it is unlabeled. In the book by Alice Mackrell entitled, "Paul Poiret", after page 48 is a photograph of the coat, from the Mary Vaudoyer Collection, Sotheby's, London. Also, details of this coat appears on a full page (page 195) in the book, "Poiret: Paul Poiret 1879-1944", by Yvonne Deslandres.

In addition, its draped construction with the minimal number of pattern pieces is typical of Poiretís design techniques. The coat's opulence and dramatic impact are hallmarks of Poiret's style. Early in his career, he used the cocoon shape, which was inspired by traditional Japanese clothing.

This coat is a great example of the style which became known as Art Deco. The functional aspects of the design construction creates the geometric surface pattern of the beadwork and though minimal in form, the sculptural impact is dramatic and graphic in the round because of the graphics.

Paul Poiret was the most popular and influential fashion designer of the turn of the 20th century. He was the first designer to marry fashion design and art, collaborating with artists as Paul Iribe, George Lepape, and Raoul Dufy. At the turn of the century he brought about a revolution in fashion design showing a new way for women to dress through the use of color, art, and style reflecting freedom of movement. Today, finding a Poiret is a rare occurrence and, in the rare auction featuring his fashions, prices can go as high as $174,000 which is the record price paid in the Poiret auction which took place in Paris in 2005.

Bust: to approx 46"; waist: 36"; length: about 48-49"

Condition: excellent. Full condition report available upon request.

Documentation: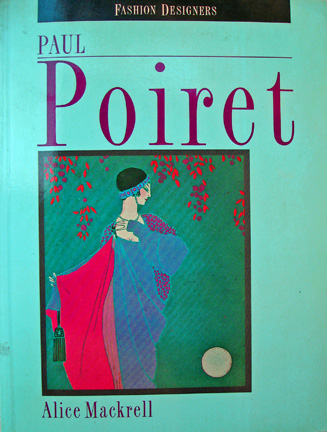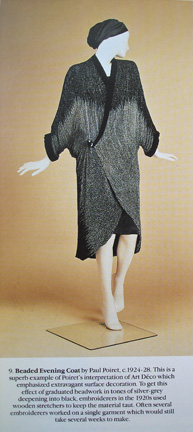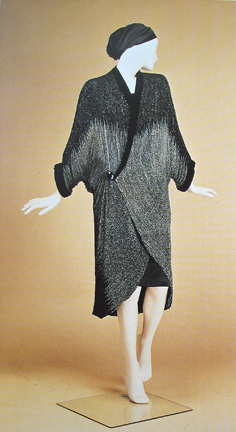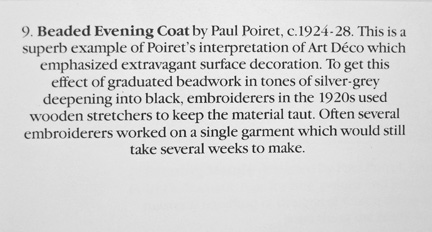 Additional documentation upon request.